Energize Your Mornings with the Picopresso Portable Espresso Maker: The Ultimate Coffee Experience On-the-Go
Starting your day with a burst of energy is essential to a productive and fulfilling lifestyle. Whether you're a busy professional, a travel enthusiast, or just someone who appreciates a good cup of coffee, you deserve to treat yourself to the best. And with the Picopresso Portable Espresso Maker from WACACO, you can do just that, wherever you go.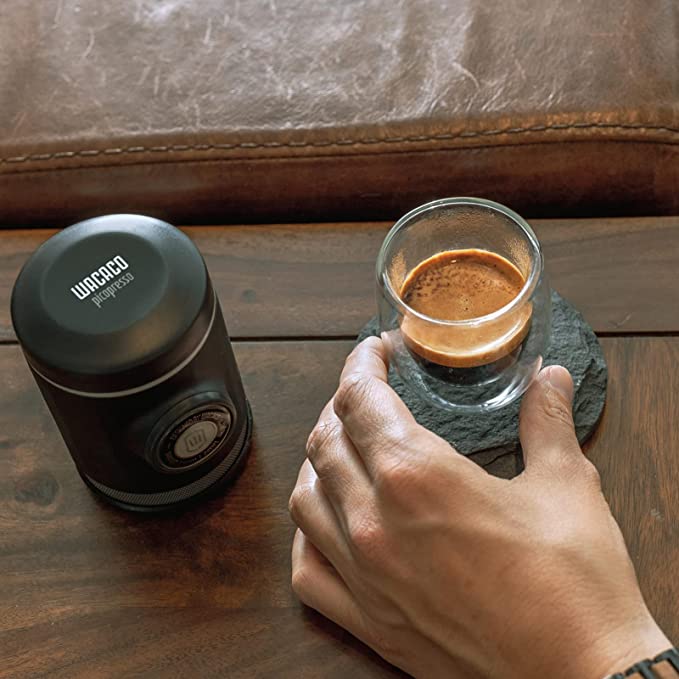 Gone are the days of bland instant coffee and overpriced café beverages. With the Picopresso, you can elevate your morning routine and enjoy authentic, café-quality espresso, in the comfort of your home, office, or on-the-go. This pro-level specialty coffee machine is designed for coffee connoisseurs and enthusiasts, delivering creamy shots with dense flavors and stunning aromas, akin to what you'd get from a lever espresso machine.
Thanks to its ultra-fine grind compatibility and naked portafilter, the Picopresso is more than just a portable espresso machine; it's a brewing experience. You'll witness delicious espresso flowing directly from the standard 52mm 18-gram stainless steel filter basket during the brewing process, giving you a front-row seat to the magic of coffee-making. And with manual, battery-free operation, you can rely on the Picopresso to deliver consistent, delicious espresso, every time.
The Picopresso is made from robust materials and crafted with quality in mind, ensuring that you have the ultimate portable espresso machine for years to come. 
Whether you're at home, in the office, or traveling the world, the Picopresso is the perfect coffee companion. With a capacity of 80 milliliters, you can savor the flavors of your favorite espresso without sacrificing convenience.
But here's the catch, for the best results, use fresh coffee beans and be prepared to dial in the grind size to achieve perfect extraction. Commercial pre-ground coffee will not work well to extract a nice espresso with crema, but with a little effort, you'll be able to taste the difference between an average cup of coffee and a café-quality espresso shot, wherever you are.
Simplify your morning routine and energize your day with the Picopresso Portable Espresso Maker. Experience the ultimate coffee experience on-the-go and never settle for subpar coffee again. Get your Picopresso today and treat yourself to the best.